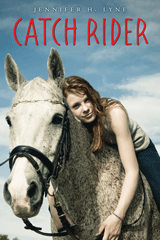 Catch Rider
Jennifer H. Lyne
2013, Clarion Books (Houghton Mifflin Harcourt)
Submarine stood in my way, chewing on a flake of fescue.

He was an old skewbald pinto, huge feet and knees, a little swaybacked, large head and a big belly.

He had strong hooves and a powerful build.

Jimmy bought him for himself on a lark when they were doing work for a fellow in Pig Run.

Uncle Wayne said Sub was the soundest horse he'd ever seen.

Although most horss threw a shoe at about six weeks, Sub kept his shoes on so long, the blacksmith had to pry them off at twelve weeks.

Now he just stood there chomping on the hay.

He was past his prime and was a sad sight, with his long whiskers and manure stains on his white spots.

He wasn't doing nothing but taking up space.

He was always in the way, and it made me angry.
14-year-old Sidney "Sid" Criser is angry a lot, for various reasons.
Her beloved father, Jimmy, died four years ago and her mother, Melinda, has managed to fall into a passive relationship with a violent man.
Sid's love for horses and ambitions for riding gets some outlet working with her uncle Wayne, a drunk horse dealer, but going to work with him at Oak Hill, a fancy show barn, shows her just how far she is from the horsey pinnacle.
And that's where I'll stop, because part of the charm of this book lies in how it keeps twisting.
The heroine's path does take her down the unusual horsey book fortunate accidents, complete with rides on spectacular horses and getting vastly unlikely opportunities to do wonderful things.
It is, in fact, the most recent update of the classic modern horse-loving girl story – hardworking female child overcomes a disadvantaged background to achieve horsey success.
These are all set in what has to be one of the most esoteric, elite variations of equine competition, aka, hunter/jumper/Big Equitation – horse show genres that exist largely in America and tend to revolve around 14-year-old girls with well-heeled parents.
Barbara Morgenroth did it with
Last Junior Year
and
Ride A Proud Horse
, Jean Slaughter Doty with
The Monday Horses
and
The Crumb
.
Good
An interesting plot, a realistic if often aggravating hero, and crisp action.
Bad
Sid, while realistic in behavior for a teen, is way too poised verbally and her aggressiveness is unrealistic – one moment she's fearlessly picking fights with threatening older boys, and the next she's cowering because someone threatened her.
Personal reaction
I dislike redneck stories with sullen, two-fisted heroines that ain't afeered of no damn boy.
I've met hard knock girls with black eyes and ready snarls, whose fists are just a'coverin' a hurtin' heart, and most of the time it's like walking into a buzz saw.
Also, there's probably a little mild jealousy that as a New Jersey resident, I can never claim to be country strong because people would just laugh.
Probably people in North Dakota feel the same way about urban stories (or, in fact, suburban stories, given that state's cow/human ratio) about ambitious young shoe-buying chicks who have zany adventures in coffee shops.
Returning to the point – given my high resistance to rural tough chick heroines, the fact I finished the book and have a mildly positive opinion is an indication that it's a decent book.
Details
Something worth mentioning is that a catch rider is someone who "catches" rides at a horse show – ie, is a good enough rider, with a good enough reputation, that people will want them to ride their horse in a class.
In short, a rider without a horse, for the most part.
This doesn't exactly describe our heroine, who has access to her uncle's horses and horses owned by a variety of his friends (also, it should be added, low-rent dealers so their horses aren't $50k warmbloods), but in essence, she's a rider without a horse, and while the book is intensely horsey and the heroine is a typical fixated-on-horses type, there are a variety of horses who take center stage, then suddenly depart.
Appropriate, given the title and Sid's ambition, but still rather jarring.
The action appears to take place during the 1980s.
It's never explicitly stated, but two things – Sidney meets Idle Dice, a famous show jumper who retired in the 1980s, and the Maclay Finals occur in New York City, which hasn't happened since 1989 – make me think it's a period piece.
Also, things like cell phones, texting, etc., aren't mentioned.
Things that are mentioned – Sid lives in rural south-west Virginia, near the city of Covington, and has an unfortunate habit of being overly hillbilly girl in speech.
OK, a bit bitchy, but I truly hate dialect.
Background
The Maclay Finals, highlight of the National Horse Show, were named for Alfred B. Maclay, second president of the Association of American Horse Shows (which would become the United States Equestrian Federation or USEF).
His term was 1925-1936.
If you needed any further proof of the money that horse shows can contain, his predecessor was a Vanderbilt.
The Maclay family's wealth was built on ice, which sounds funny unless you've just gone through a massive heat wave and then it sounds completely sensible.
After a brief flirtation with the family business, Alfred shrugged it off and settled down to what was undoubtedly a deeply satisfying life managing his personal wealth and being influential in various hobbies including harness horses, horse shows and dog shows (he was an AKC judge), glass art and gardens.
He had a Millbrook, NY house called Killean Farm, and a Florida home that his widow turned into a public garden.
And now tearing my attention away from the American rich - sorry, so much of horses seems to end up with the 1% - Maclay classes are horse show hunter classes for junior (youth) riders; to reach the finals, you need to accumulate points.
The finals, along with the National Horse Show, were originally held at Madison Square Garden in New York City.
The National moved the the Meadowlands in NJ in 1989, to Wellington, Florida in 1992, and to Syracuase (as part of another horse show) in 2008, and finally to the Kentucky Horse Park in 2011.
Links
http://www.covington.va.us/
Reviews